MADE: Return to Zork FM-TOWNS Unknown Variant
Description
Hello the whole of the ScummVM team,
I have a new challenge with the Japanese FM-TOWNS
version of the Return to Zork game.

It works under ScummVM, no problem ;
ScummVM detected it immediately!
But...
It seems that we have a collision here... the rtzcd.red file
has the same md5 of the first 5000 bytes and the same size
as the English CD v1.0 version.
It turns out there's three other rtzcd.dat files on the disc
(an rtzcd.dat is also in rtzcd.red).
One in the base directory, one in the "RTZFM"
directory and one in the "RTZ9821" directory.
Turns out the one in the base directory is for
DOS, RTZFM for FM-Towns and RTZ9821 for PC-98.

The three versions all show up with messed up text.
It seems to use the "KROM" file included on the disc for the font.

The dectection is incorrect :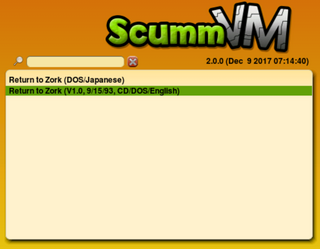 Normally, it should read : Return to Zork (FM-TOWNS/Japanese)

My question is as follows :
How to add the correct detection in ScummVM dashboard ?
Can you help me, I don't really know.
Best regards